7/16/15
Greetings,
I just wanted to thank Lee Pulaski and the Shawano Evening Leader
for the article they did on my music this week. Here's a link to the article:
http://www.shawanoleader.com/articles/2015/07/15/still-strumming-strong
events. Special thanks to The Glas Coffee House & Joel Kroenke for hosting the open mic. 
Thanks,
CJM
4/29/15 
Hello,
My next upcoming solo show will be at the Acoustic Cafe in Eau Claire May 15th.
I'm currently working on my next CD release - Hoping to have it done by this Autumn.
I am also working on some art work as well - planning on having some of my art work
available for purchase at the music festival in Wabeno this coming August. You may have
noticed the Downloads page on my site - I am planning on putting some special tracks
for you to download/ you'll only find these tracks on this site/ I'll keep you posted.
Also check my shows page for more upcoming events.
Thanks!
CJM
4/16/15
Hello,
I have a solo show coming up next week April, 25th
at the Big Easel Gallery & Bistro in Wabeno, WI.
The show starts at 5pm. 
Founders and Owners, Tim & Connie Friesen,
continue to bring fabulous food and wine not commonplace
to this corner of the world. With live music and a whole house
of art to explore, this is a dining experience unlike any other.
For reservations please visit their website here:
http://bigeaselgallery.com/ 
thanks,
CJM
4/9/15
Greetings,
"Clinton J. Miller ~ Live From Pointlandia"
is now available. This is a two cd collection
featuring live performances from the Stevens Point
area.. my second home for the past 10 years or so.
Special thanks to Drew Carlson, Bart Kuhlmann,
and Kc McCrum. 
Thanks
CJM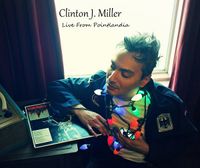 3/24/15
Hello,
I'm currently working on putting together a live album/cd for you -
I'll keep you posted on when it will be finished. 
CJM 
3/16/15
I'll be opening for Kameron Krause this Friday March 20th at Emy J's in Stevens Point.
Stop on in if in the area.
CJM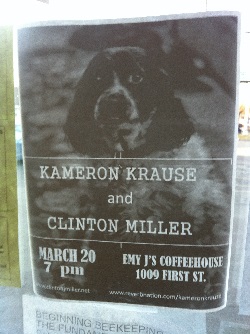 3/11/15 I'll be playing a split show with Gregg Orlowski this weekend at Kristin's Riverwalk in Stevens Point.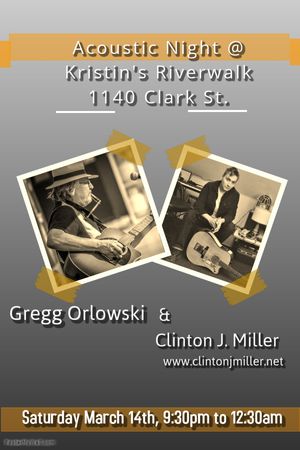 3/8/15
I wanted to pay tribute to my nephew Garrett - He was an inspiration to me, an incredible singer/songwriter just like his Dad - He was a friend and just a beautiful spirit. I will miss him dearly. Sending my prayers to his family, friends and his loved ones. With Love. Uncle Clint
3/1/15
Hello, 
I've been staying busy with those new tunes - and trying to stay warm as well - can't wait
till it warms up - hopefully it will be soon.
I have some live shows coming up this month, just added a new show for March 14th.
I'm hoping to have a few surprises for you soon - so stay tuned.
Let's start Marching into Spring.
CJM
2/2/15
I've been staying busy working on composing and writing my next upcoming Album -
I'll also be opening for the wonderfully talented singer/songwriter Kameron Krause March 20th
at Emy J's in Stevens Point - if in the area stop on in. Looking forward to Spring -
And looking forward to sharing some new tunes with you as well!
CJM
1/5/15
Hope everyone had a nice Holiday Season. I'll be playing a solo show at Classics Jan, 16th.
I will also be sharing a couple tunes for the 12th Annual Martin Luther King Community Celebration
Jan 19th at the First Presbyterian Church in Shawano WI. 
Hope to see you soon!
Thanks
CJM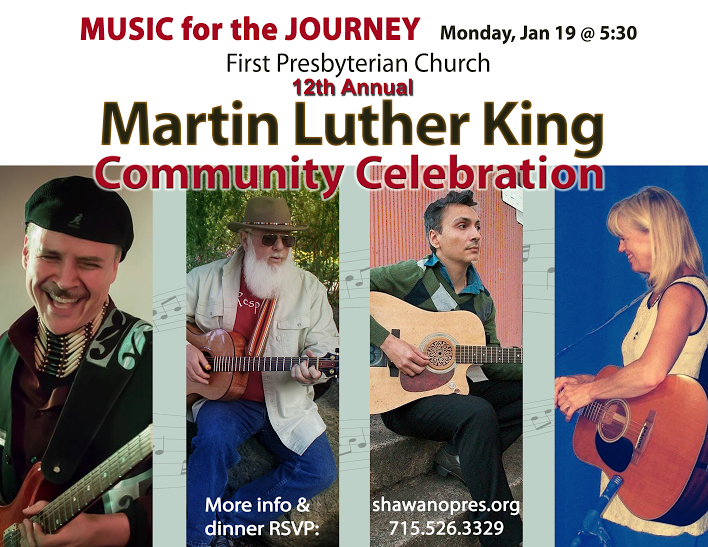 12/22/14
Happy Holidays everyone!
I've been staying busy with writing new tunes for my next album -
I'm looking forward to sharing the new songs with you soon.
Peace
CJM
Greetings, 
Wanted to thank the Funkyard Dealers for having me open for them last night at Emy Js in Stevens Point - 
These guys rock - awesome tight funk band - check them out http://www.funkyarddealers.com/
I am working on a new album - I've got some tunes cooking in the music oven - I'll keep you posted.
CJM